Artemis Pastry & Coffee Shop
After the soft-opening time attracted great attention, Artemis was officially put into operation. This bakery is inspired by an art museum, so when you step into the shop, you will easily see that the space in Artemis is full of art and modern but still alternates between closeness and friendliness.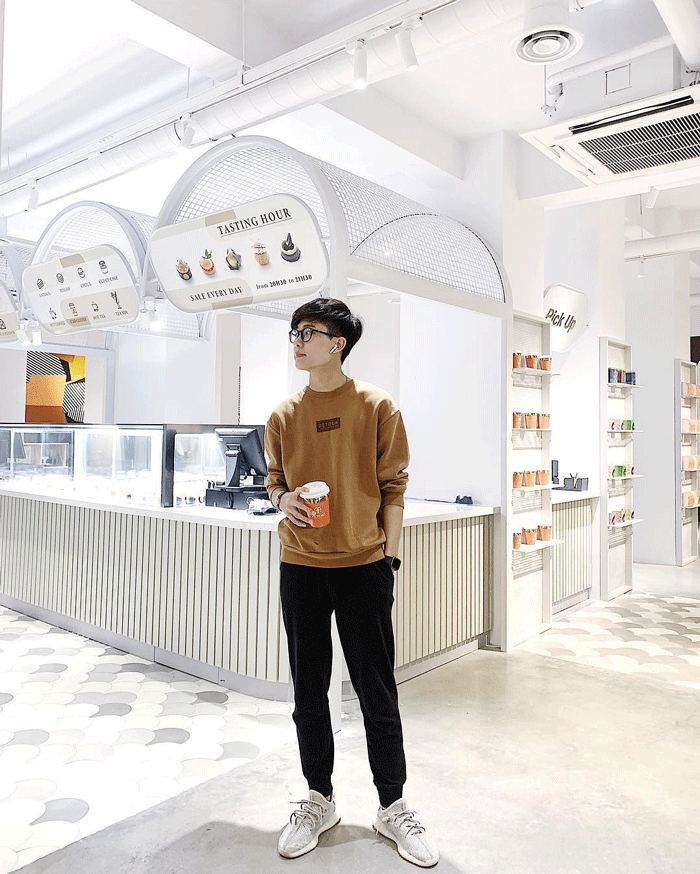 The Artemis Pastry & Coffee Shop is inspired by an art museum. Photo: kenh14.vn
The array of colors and shapes is the highlight of Artemis. Besides, the light at the restaurant is also favored between yellow and white tones, creating a "virtual" effect when taking pictures.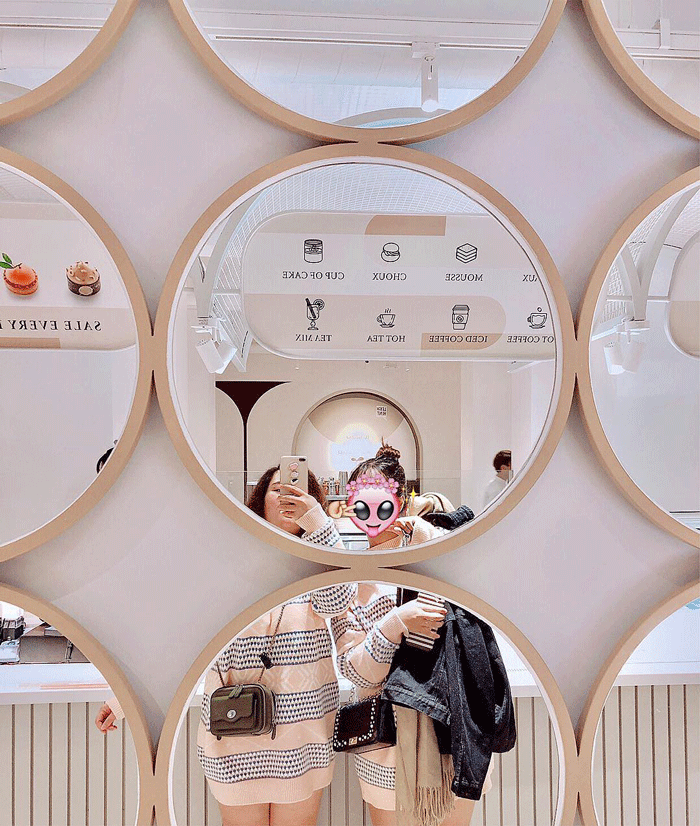 Light creates a beautiful virtual effect. Photo: kenh14.vn
The space is quite large, and when you step in, you will have to travel a further distance to the main order stall.For cakes, there are many choices with some favorite names like Apricot Tea Mouse Choux, Raspberry Mouse. , Caramel Earlgrey Mouse ...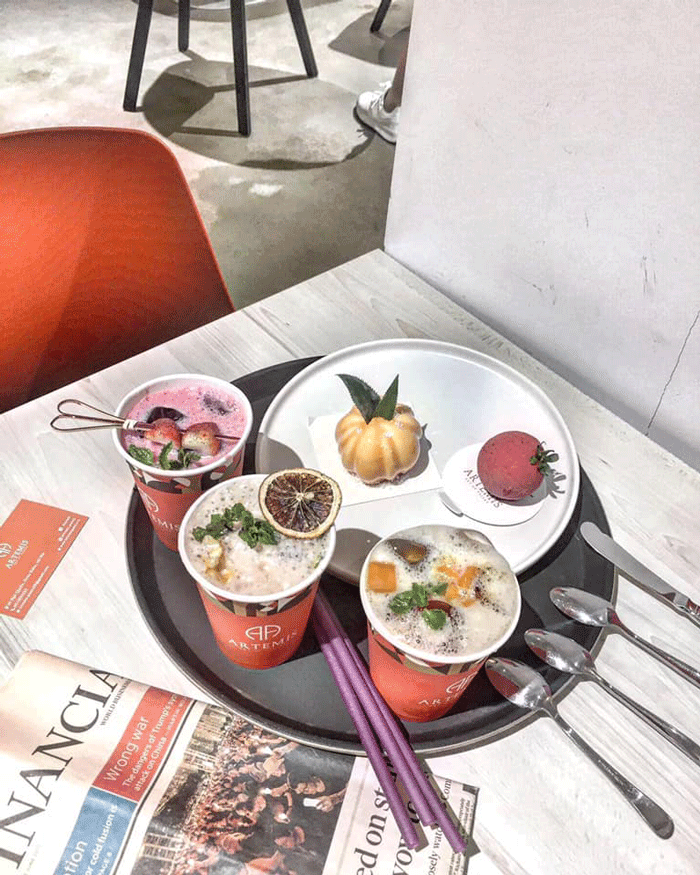 With many different cakes. Photo: hongblog.net
Address: Ngo Quyen, Hoan Kiem District, Hanoi.
Opening hours: 7:00 - 23:00
Reference price: 50,000 - 200,000 VND
La Fleur Tea and Dessert Cafe
Located on Hai Ba Trung street in the center of Hanoi, La Fleur Tea & Dessert Cafe of course also brings the elegance of the busy business land . The minimalistic minimalism at La Fleur Tea & Dessert Cafe seems to be born to magnify the wonderful taste of afternoon tea with cakes, delicate and unbelievably relaxing.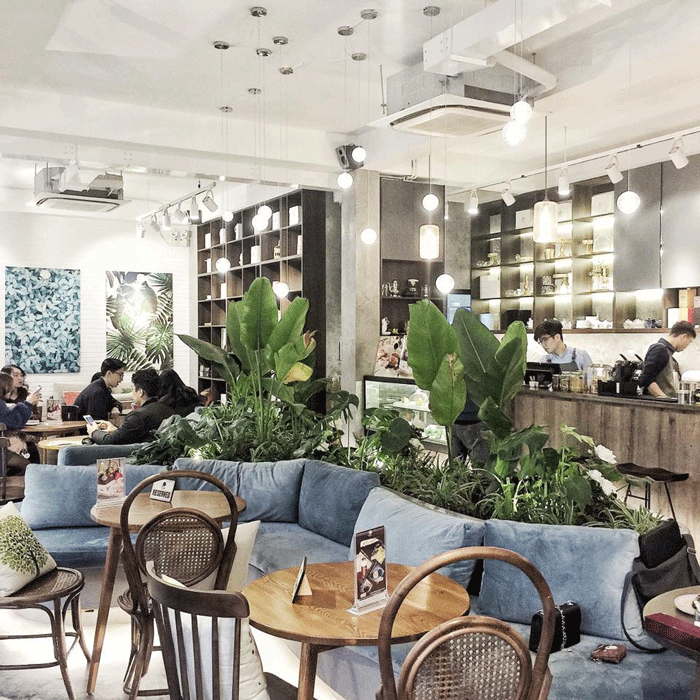 Space at La Fleur Tea & Dessert Cafe. Photo: tuarts.net
La Fleur Tea & Dessert Cafe is probably more suited to the high-class lady's girlfriends, who "love pink and dream." Each set of tea - cake here is beautiful as a fairy tale, from floating layers of cheese to tender mousse and dense tea. You can find it at La Fleur Tea & Dessert Cafe from a set of blooming cherry pie with a deliciously Japanese flavor to the great French macaron. Too romantic for a chilly afternoon in Hanoi right!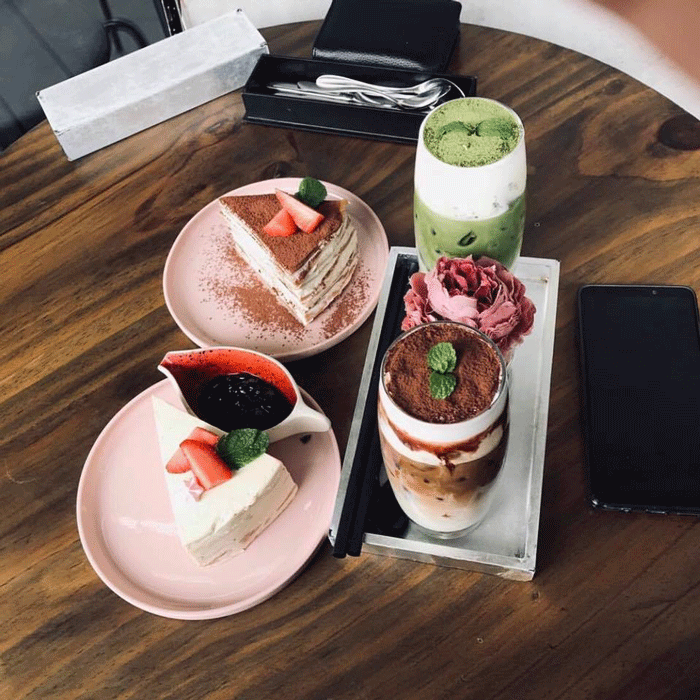 Drinks with cake at the bar. Photo: vuakhuyenmai.vn
Address: 2nd Floor - 22B Hai Ba Trung, Trang Tien, Hoan Kiem District, Hanoi.
Opening hours: 9:00 am - 11:00 pm
Reference price: 50,000 - 400,000 VND
Tea D'Flore
Tea D'Flore is a tropical style tea-drinking model that first appeared in Vietnam. With a harmonious combination of vivid colors and Latin-style natural repercussions will be a must-try space for Hanoi's high-class guests, promising to bring you extremely new experiences .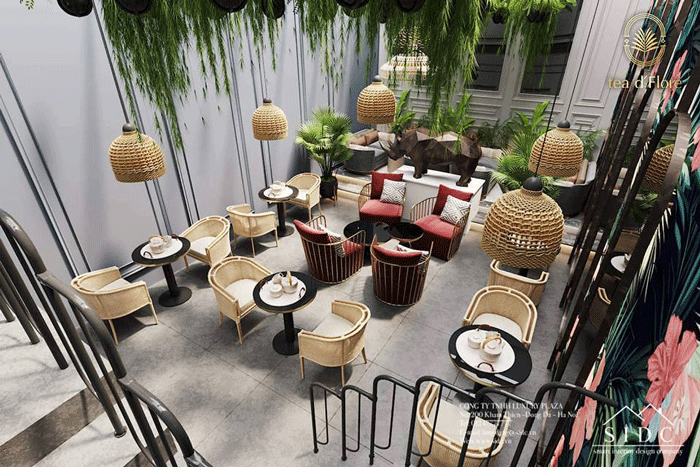 Tea D'Flore with extremely luxurious space. Photo: 8vip.vn
Tea D'Flore space is extremely unique design, decorated with many trees, bringing a feeling of peace, closeness to nature and equally wild and lively. Tea D'Flore's view must say "no dead corner", every place is a good space for you to check-in with your friends.
Not only with the impressive space, Tea D'Flore is sure to attract you even more by the attractive drinks and cakes. The menu of the shop is very diverse and varied with flower teas, fruit tea, milk tea, juice and cakes. Moreover, the staff of Tea D'Flore is very enthusiastic and friendly, always ready to help when you need it, will definitely give you an ideal place to relax or work.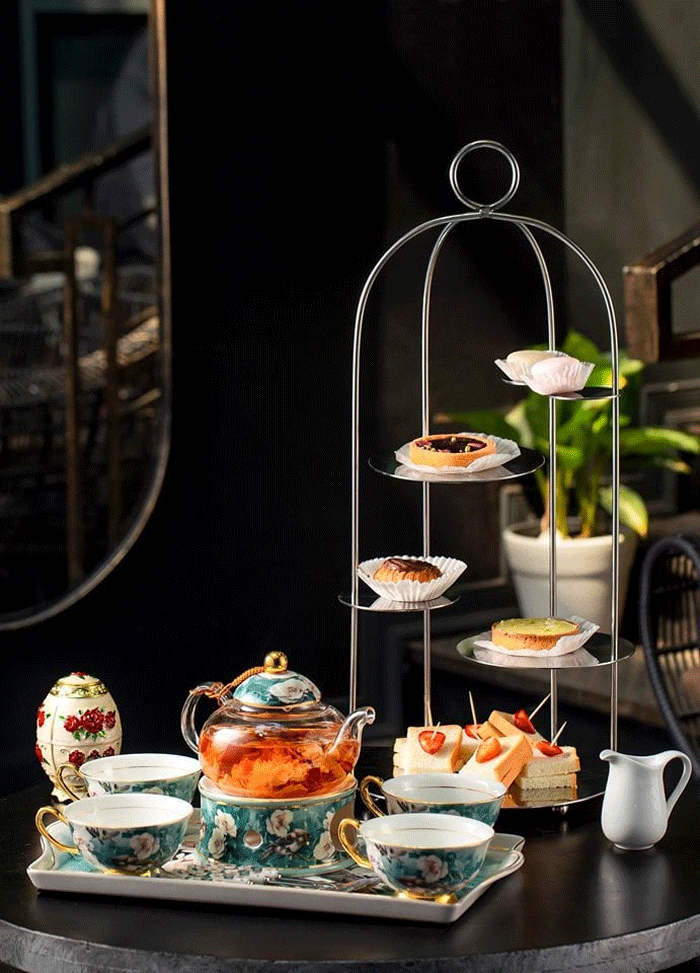 The menu at Tea D'Flore is plentiful. Photo: toplist.vn
Address: 94 Mai Hac De, Hai Ba Trung, Hanoi.
Opening hours: 7:00 - 23:30
Reference price: 30,000 - 80,000 VND
Rewind Teahouse
Decorated in white tones hidden in a small alley No. 11B on Hang Khay Street, you must ask the people around to find Rewind Teahouse. Although the restaurant is located winding in a small alley, there is still enough indoor and outdoor space and the view overlooking the beautiful Sword Lake.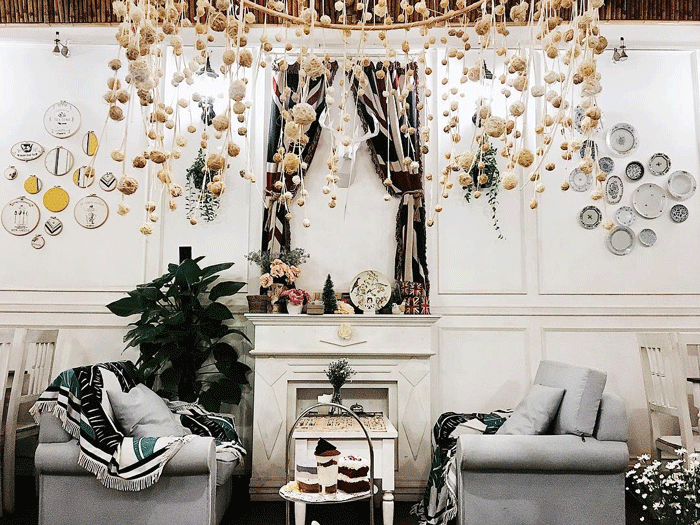 Beautiful white sofa set under a unique chandelier. Photo: vietnammoi.vn
Putting aside the car horn, the noisy machinery and the smoke, you just sit at the balcony, enjoy afternoon tea and listen carefully to the rhythm of your own life. Aromatic peppermint tea will refresh your mind, boost your body and stimulate creativity. A little bit of fat, sweet biscuit makes it a little sweeter for a sunny afternoon. A quiet afternoon tea shop in the heart of such an elegant old town, you can sit and read all day without being bothered by anyone.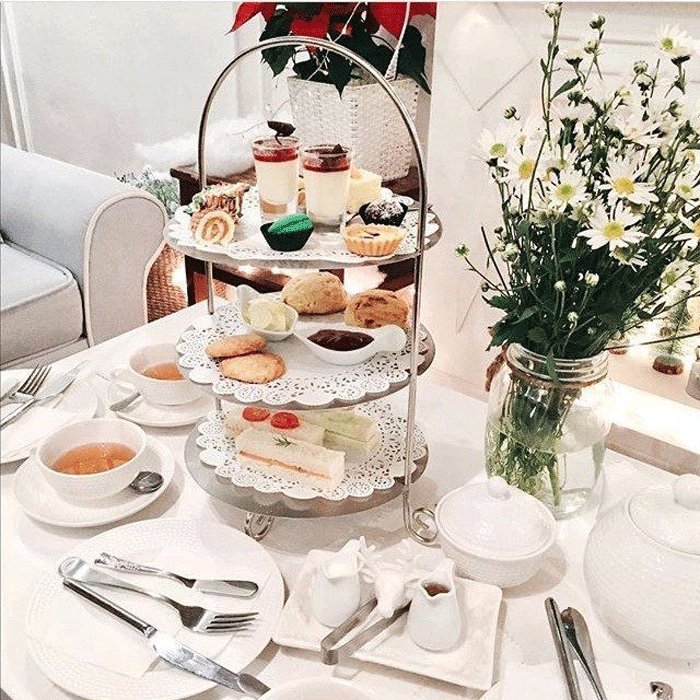 A multi-layered cake set for 4 at Rewind Teahouse. Photo: lozi.vn
If traveling in a large group of people, you can order a large teapot, a set of all kinds of sweet and savory cakes that are already flavorful for an afternoon meeting. At Rewind Teahouse, you can choose sandwich, scone, meringue, opera or panna cotta, in which, macaron and su cream are considered to be the sweetest so almost everyone calls for more.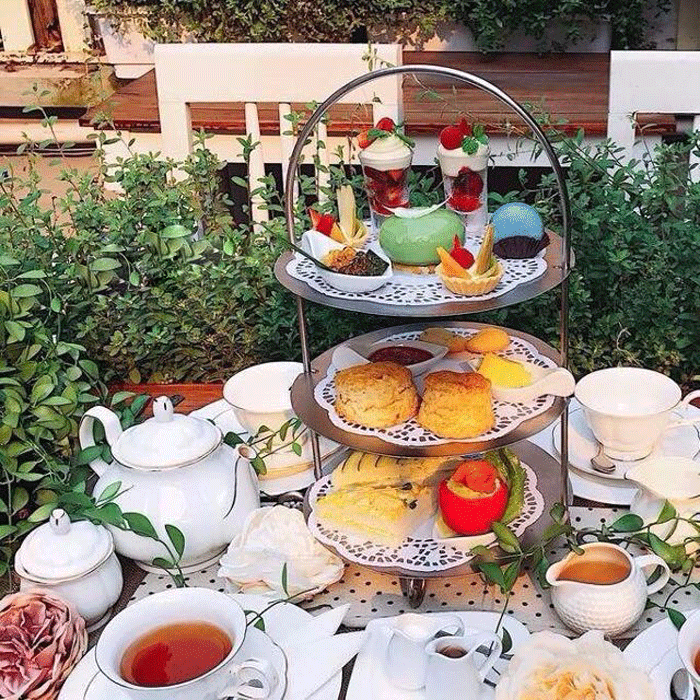 The cakes are beautifully decorated. Photo: lozi.vn
Address: 11B Hang Khay Street, Trang Tien Ward, Hoan Kiem District, Hanoi.
Opening hours: 9:00 am - 11:00 pm
Reference price: 140,000 - 350,000 VND
The YLang - Gardenista
Located at 2 Le Thach, Hoan Kiem District, The Ylang - Gardenista cafe is located near the Ly Thai To monument, close to the pedestrian street. The Ylang is proving its own charm when attracting many visitors. The shop is a new corner with a new and unique model of green cafe.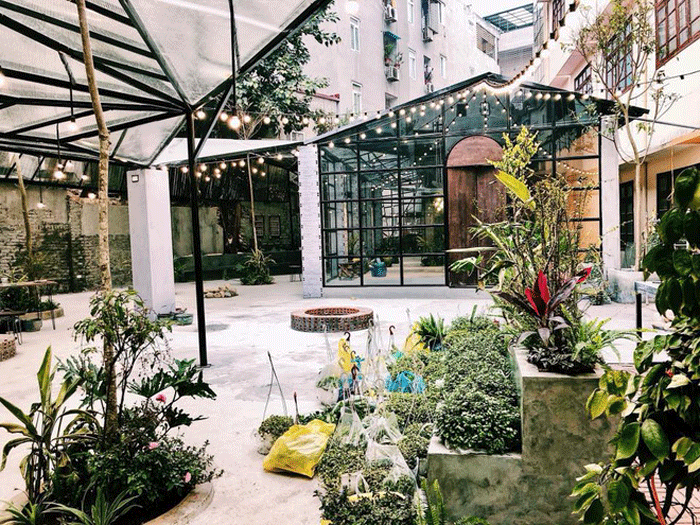 The YLang - Gardenista with a very unique model of green cafe. Photo: toplist.vn
The shop has 2 floors: The first floor is a large space displaying beautiful small bonsai pots, super beautiful Koi aquarium, the 2nd floor brings a beautiful and peaceful space like Dalat. The shop is decorated in a rustic style, mainly lovely wooden tables in harmony with the white color of the cement wall, looks very eye-catching and attractive. Especially, the corner of the balcony with the view overlooking the pedestrian street is "put bricks" when you visit the shop.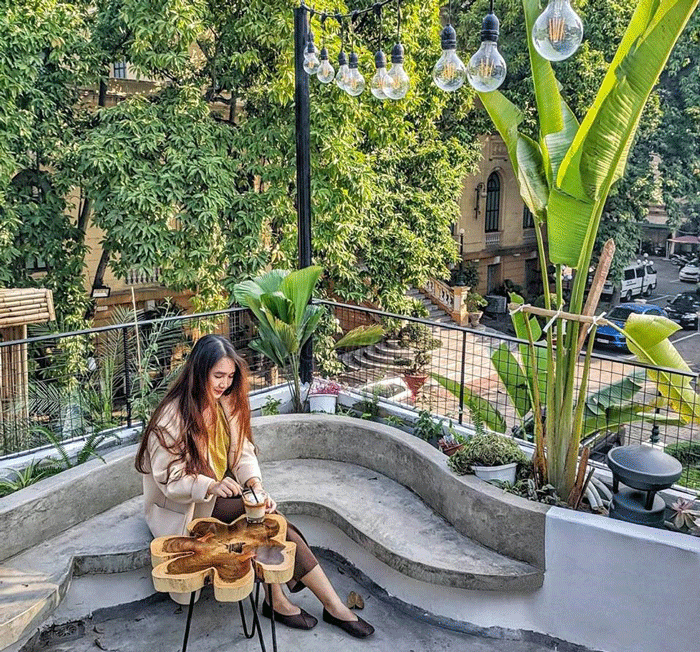 Lovely wooden table. Photo: we25.vn
Coming to The YLang - Gardenista, you will enjoy a special flavor of tea, fragrant and other drinks extremely rich, adding a little fragrant sweet cake will surely bring you an interesting experience. , Memorable. Moreover, the orders at The YLang - Gardenista are also very cute, will help you have the most comfortable moments when you come here.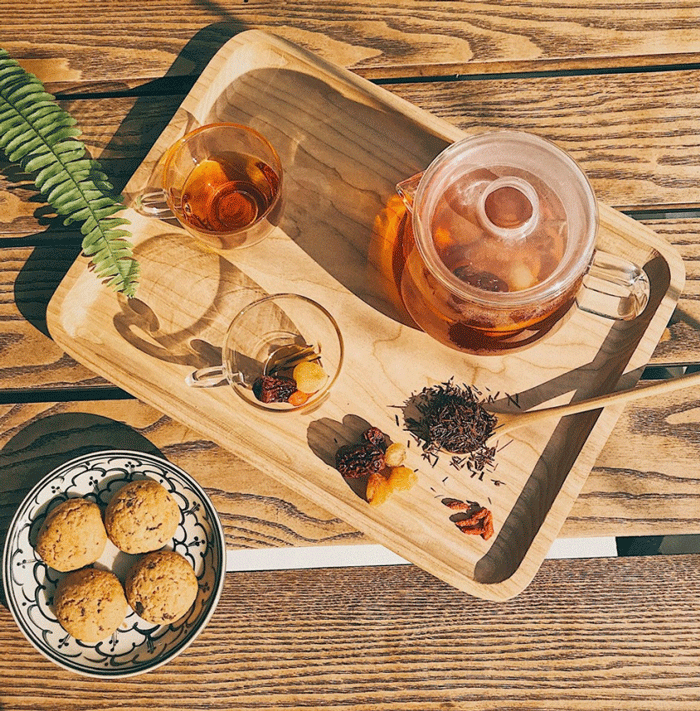 Tea cakes at The YLang - Gardenista. Photo: toplist. VN
Address: No. 2 Lê Thạch, Trang Tiền, Hoàn Kiếm, Hanoi.
Opening hours: 8:00 - 23:00
Reference price: 30,000 VND - 200,000 VND
Hanoi is full of classy tea shops, luxurious and look alone. Not only beautiful but also the cakes here are lovely, quality free of charge. Quickly save these super love tea shops in Hanoi to have the opportunity to gather with sister associations or go with family.