1. How to make Central Vietnam pancakes
Ingredients for Central Pancake Cake :
- Cake flour part:
200g of rice flour
50ml coconut milk
1/2 teaspoon salt
1 tbsp turmeric
1 tablespoon white sesame
- Pancake filling:
200g cakes
200g bacon
200g squid
1 onion
100g bean sprouts
100g scallions
- Sauces, other ingredients:
1 cup cooking oil
2 tablespoons fish sauce
1 teaspoon white sugar
2 peppers
1 tbsp of lemon juice
How to make banh xeo Central:
Step 1: Pancake filling:
200g of squid washed several times with granulated salt and water and cut into small pieces to taste. 200g peeled shrimp, leave only, wash. 200g bacon washed, cut thin, small pieces. Diced onion. Bean sprouts picked, washed. Scallions washed, chopped. Heat 3 tablespoons of cooking oil, stir-fry cooked onion, squid, bacon in turn, seasoning to taste separately.
Step 2: Mix cake dough:
Dissolve 200g of rice flour, 50ml of coconut milk, 1/2 teaspoon of salt, 1 tablespoon of turmeric powder, a little white sesame and pound with 250ml of filtered water in a large bowl and stir.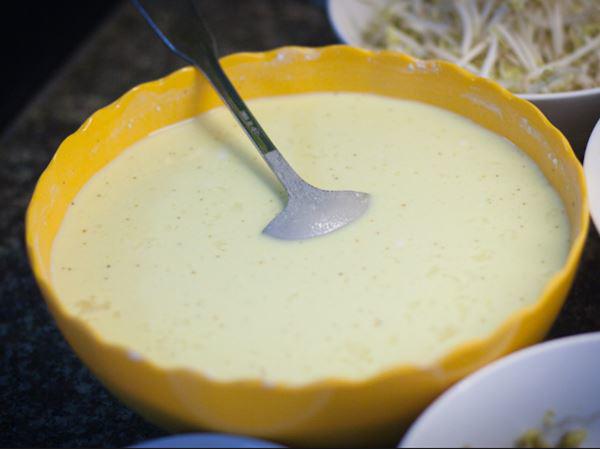 Step 3: Pour the cake:
Heat the pan with a thin layer of cooking oil, scoop the batter into the cast iron pan and mix well. Turn the bacon, shrimp, squid into the middle of the mold, leave for about 30 seconds, then add a small pinch of the bean sprouts, scallions in the middle, fold the bread in half, turn the surface in half to make the bread brown and crispy on both sides. Pick up the cake to make a separate plate.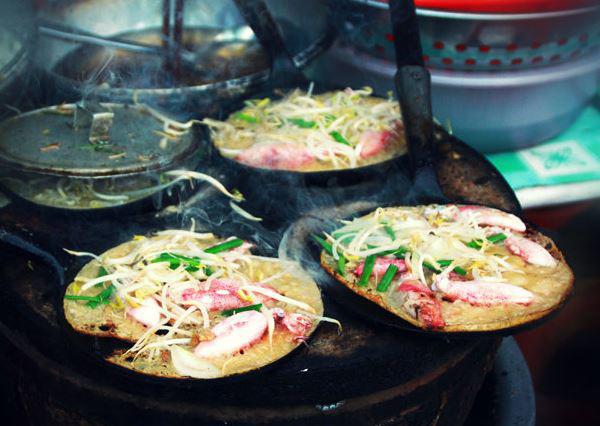 Step 4: Mix the dipping sauce:
Add 2 tbsp of fish sauce, 1 tbsp of white sugar, 1 tbsp of lemon juice, minced chili peppers, 2 tbsp of filtered water and stir well. Arrange pancakes, rice paper, raw vegetables and fish sauce on the table and enjoy.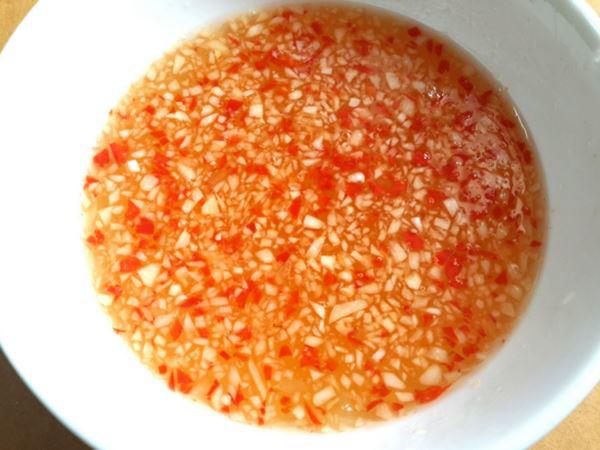 2. How to make southern pancakes
Raw materials for making southern pancakes:
- 500g pancake dough
- 150g fried flour
- 1 bunch of green onions
- 5 duck eggs
- 500g bacon
- 500g of shrimp
- 300g bean sprouts
- 1 liter of water
- 500ml of coconut milk
How to make southern pancakes:
Step 1: How to make pancake fillings:
500g of meat washed, sliced ​​thinly. 500g shrimp cut off their heads and feet, rinse well and drain. Stir-fry meat and shrimp until almost cooked, season to taste. Break 2 duck eggs into a bowl, beat.
Step 2: How to make pancake dough:
Mix 500g pancake flour, 150g crispy flour, 1 liter of boiling water to cool into a large bowl, stir. Scallions cut into small pieces and put into a mixing bowl with 500ml coconut milk, duck eggs and mix well.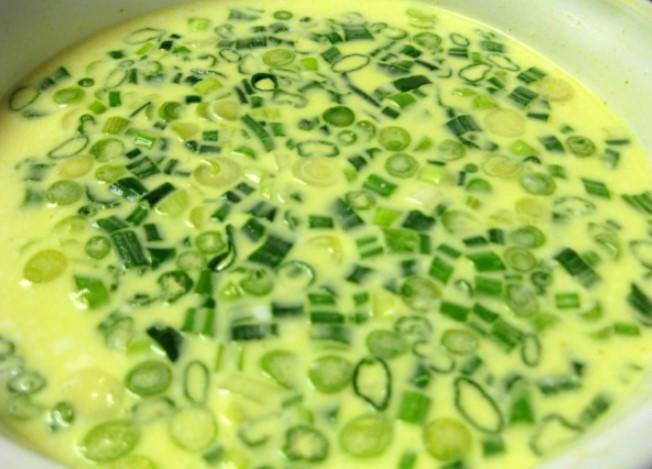 Step 3: How to pour cake:
Heat the pan, spread the oil all over the pan. Then add bacon, shrimp to the island for fragrant. Scoop a spoon of flour into the pan and stir it all over the pan. Add a little price and cover with large lid for about 2 to 3 minutes. Open the lid, fold the pancake in half and place it on a plate.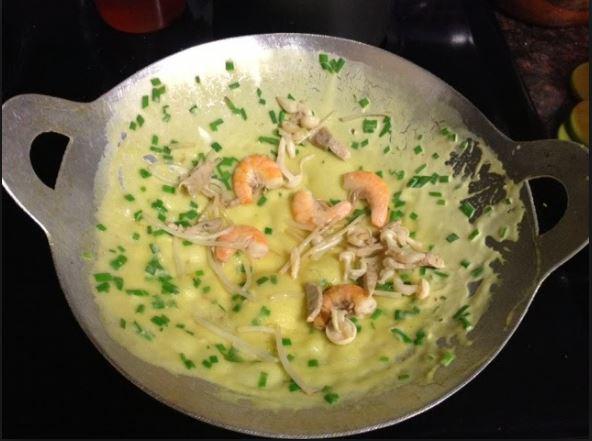 Step 4: Display pancakes, raw vegetables, cup sauce, roll rice paper and enjoy.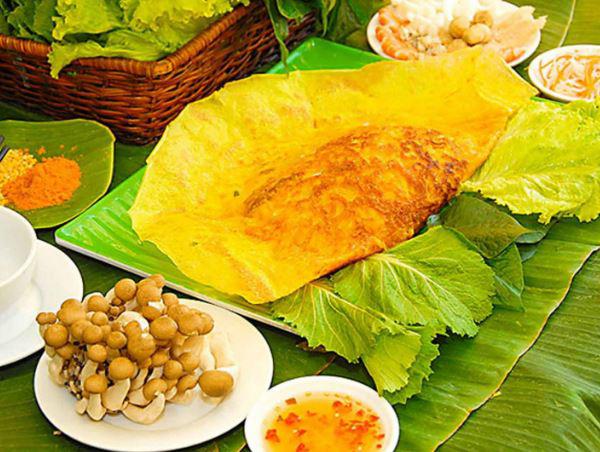 3. How to make Northern pancakes
Raw materials for making pancakes in the North:
- Dry rice flour: 200 grams
- Pork: 200 grams
- Turmeric powder: 10 grams
- Shrimp: 200 grams
- Beer: 100 ml
- Shiitake mushrooms: 30 grams
- Onions: 1 bulb
- Bean sprouts: 100g
- Shallot, ginger, green onion, raw vegetable
- Spices: Salt, fish sauce, monosodium glutamate, pepper
How to make Northern pancakes:
Step 1: Making crust
- Dry rice flour, 250ml of filtered water, 100ml of beer, 1 teaspoon of salt, 10 grams of turmeric powder, mix well and then chop a small piece of green onion.
Step 2: Making cake filling
- Pork you washed, sliced, marinated with a little fish sauce, MSG, pepper. Shrimp cut beard, washed and marinated with a little salt, ginger. Onion peeled, sliced. Bean sprouts to wash, filter the bean cover. Shiitake soaked and then softened.
- North pan fry fragrant shallots, then fry the shrimp, then add the meat and mushrooms to the island evenly when the shrimp and the cooked meat add the onions. Season to taste and then turn off the heat.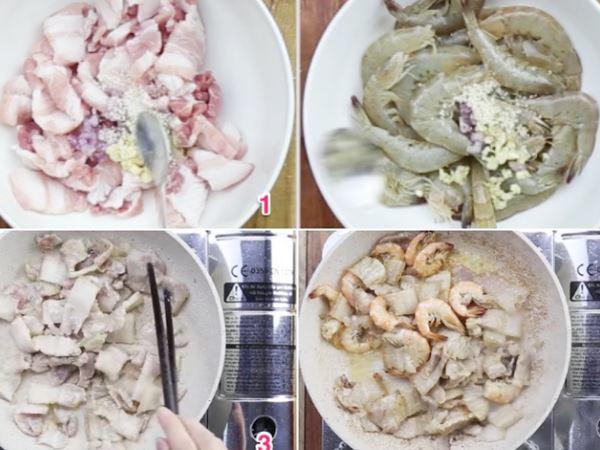 Step 3: Pour the cake:
- You use deep-frying pan will help thin bread more evenly. Heat a little cooking oil, scoop a large amount of flour, pour the temple onto the pan. Next, you give the stir-fried shrimp meat mixture, spread evenly on the cake, then spread a thin layer on the top to simmer for about 2 minutes for the crispy cooked bread and fold the cake in half.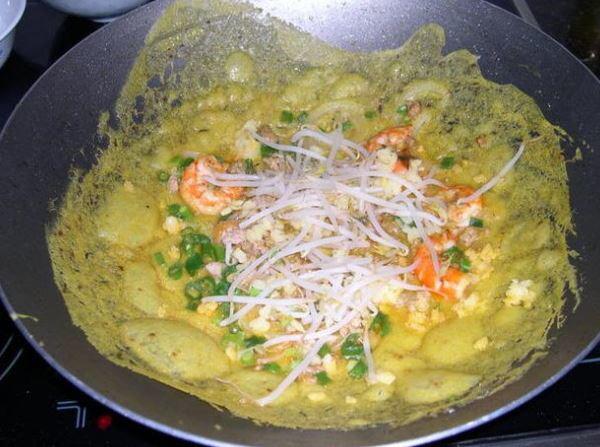 Step 4: Enjoy the cake with sweet and sour sauce and raw vegetables.
4. How to make western pancakes
Western pancake ingredients:
- 1 pack of banh xeo 400g
- 250g grated coconut
- 10 scallions
- 300g black tiger shrimp
- 300g bacon
- 50g green beans
- 400g straw mushroom, 2 onions, 300g price
- Spices: Cooking oil, salt, MSG, sugar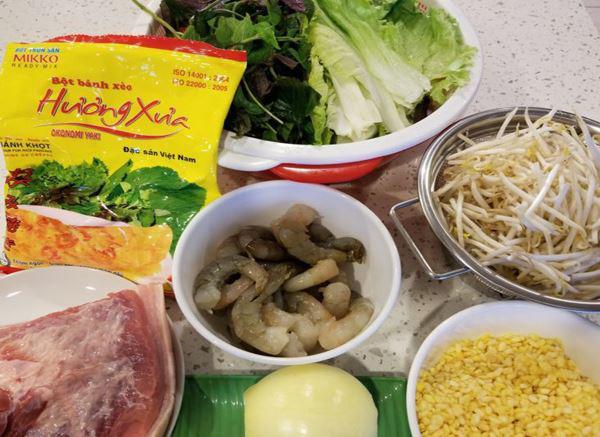 How to make western pancakes:
Step 1: Cake dough part:
Add ½ liter of coconut juice, squeeze the juice. Add coconut milk to rice flour (pancake cake), 1/2 tablespoon turmeric powder, chopped scallions and mix well. Note that not too much turmeric will make the pancakes smell pungent and the color of the pancakes will not be beautiful.
Step 2: The filling:
- Chopped onions and served with bean sprouts. Pork washed and sliced ​​thin. Shrimp washed cut beard. Add 1/2 tsp seasoning seeds, 1 tsp sugar, 1/2 tsp pepper, minced shallots, minced garlic to shrimp meat mixture.
- Green beans soak for 2 hours, then wash them clean, put them on the stove and cook the beans to eat Bui. Should not be cooked well.
Step 3: Pour the cake:
- Heat cooking oil in a deep pan. Add the marinated shrimp and meat. The amount of shrimp is enough for a cake. After the shrimp and meat are cooked, scoop a large tablespoon of flour into the pan, spread out evenly on the pan. Cover pan for about 2 minutes. When the filling is just slightly cooked, we will open the lid to add some oil to the edge of the cake, continue to fry the edges of the bread is really crispy.
- When the bread is golden brown, fold the cake in half. Serve with dipping sauce and raw vegetables.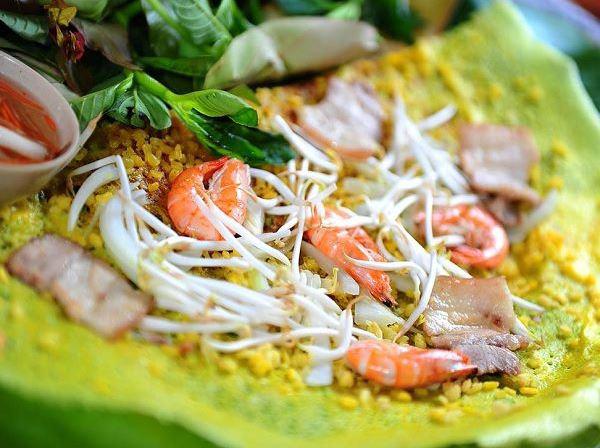 5. The secret to making delicious pancakes
- Raw materials to make pancakes fillings must be delicious. Sweet and sour sauce recipe can be used for all 4 types of pancakes.
- Pour pancakes in Central Vietnam should pour into a small pan, flat bottom, add plenty of oil to the crunchy bread, right taste.
- Mix flour Central pancakes should not give too much coconut water or filtered water because it will dilute the dough when pouring bread is not delicious rolls. The same amount of flour needs a sufficient amount, too much flour mixture is prone to hard, clumping, difficult to roll into cakes.
- Pour the southern pancakes into the deep pan, spread out to the surface, simmer over low heat so that the bread is gradually cooked, crispy and chewy.