Quang chicken noodles in Central Vietnam have a delicious, unique flavor that is a perfect combination of soft and chewy rice noodles, fat chicken. Check out how to make the standard chicken promo noodles below:
1. Prepare raw materials:
- A chicken is about 1kg
- 10 quail eggs
- 1 liter of fresh coconut water
- 4-5 dried onions
- 2 garlic bulbs
- Fresh chili, cashew oil, turmeric powder
- Instant noodles 500gr
- Grilled rice paper (rice paper) 2 pieces
- Roasted peanuts (roasted peanuts)
- Cilantro, vegetables including lettuce, basil
- Raw vegetables: grated banana, bean sprouts, young mustard
- Spices: pepper, salt, delicious fish sauce, monosodium glutamate, sugar, a lemon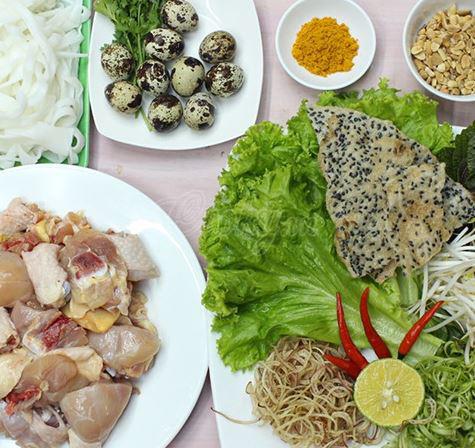 2. Processing of raw materials:
- Choose the big chicks, slightly old, so when the new meat hunt and crispy skin.
- Chicken washed with diluted salt water to eliminate odors of the chicken. Then, separate the meat, cut small pieces to eat. Cut chicken bones into bite-sized pieces.
- Crush the onions, garlic and fresh chili. Roasted peanuts, peeled.
- Wash cilantro, cut into small pieces. Lettuce picked up and cut into bite-sized pieces, mixed with other vegetables washed and drained.
- Boiled, peeled and cut eggs in half.

3. How to cook delicious chicken noodle noodles :
Step 1: Marinate the chicken:
- Chicken marinated with minced garlic onion, 3 tablespoons of fish sauce, 1 teaspoon of sugar, 3 tablespoons of seasoning seeds, 1 teaspoon of ground pepper, 1 tablespoon of cashew oil, a little turmeric powder for beauty. Mix well and marinate for 2 hours outside, or 8-24 hours in the refrigerator is the best.

Step 2: Use a large pan, non-fragrant onion garlic and then marinated chicken to fry for hunting. Non-fragrant garlic onion, fried chicken heart, seasoning just enough, to separate bowls.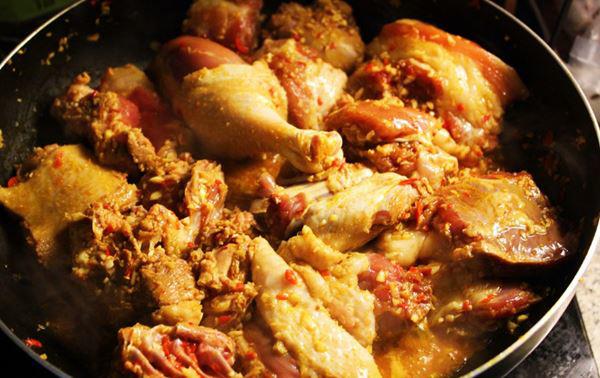 Step 3: Then, you put coconut water in the pot, cook with chicken for 15 - 20 minutes. When the chicken meat is soft and the chicken bone has all the fresh water released, proceed to taste it to taste and then turn off the heat. You can add some cashew oil to make the broth nice.
Step 4: When the chicken has softened and absorbed, pour the fried chicken heart into the pot. Cook until the chicken is soft and cooked. Pay attention to the time it takes to cook the chicken so that it does not soften.
Step 5: Cook another pot of boiling water, blanch the Quang noodles for 2 minutes, then remove and drain.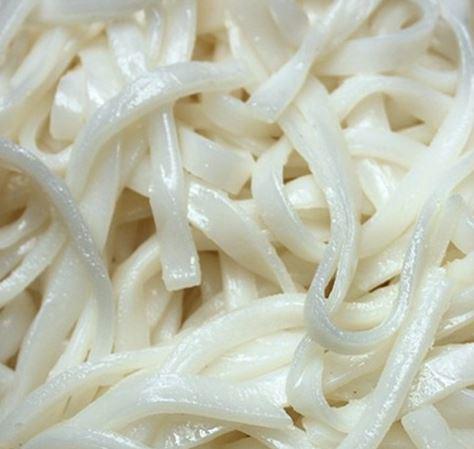 Step 6: Chopped vegetables, put in a bowl, put noodles on, add just enough water, add boiled eggs (quail eggs, chicken eggs), sprinkle with coriander, roasted peanuts. Add a piece of lemon, along with green pepper or chili sauce.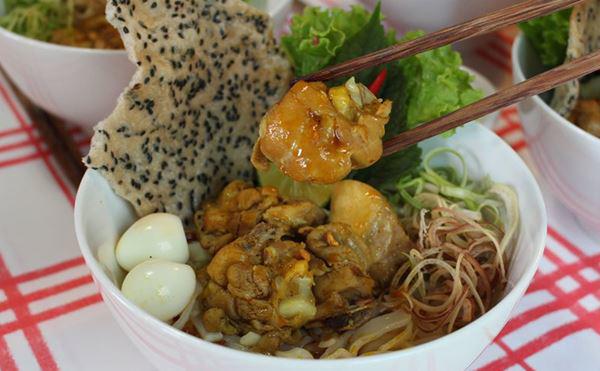 Because how to make Quang chicken noodles is both fast and simple. The housewives can completely cook at home with delicious taste, both clean and more economical. Do not be afraid to add this Quang chicken noodle recipe as a delicious dish every day in the family menu.