On a hot weekend, if you are bored of rice, please make this book for the whole family to enjoy.
ROLLED SHRIMP
Material:
- 8 rice paper
- 120-200g dried noodles (if you do not have dried noodles, buy fresh noodles at the market)
- 450g shrimp, boiled, peeled, cut into medium pieces
- Fresh chopped cilantro; fresh chopped mint leaves; chopped basil; 2 carrots, shredded; 1 cucumber, cut yarn
Making dipping sauce:
- ½ cup hoisin sauce
- 30g peanut butter
- 1 tbsp chili sauce
Note, you can make sweet and sour sauce like spring rolls to make bun vermicelli!
Making:
If the house has dry noodles, boil the rice vermicelli as instructed then pour it into a basket to drain.
To make the rice paper softer and easier to roll, wash your hands and then dip your hands in a bowl of warm water and rub it over the rice paper to soak the rice. At this time, rice paper is placed on a flat dish.
Turn vermicelli, carrots, cucumbers, herbs of all kinds and finally shrimp to the top.
Then roll the rice paper. Do the same with the rest of the ingredients. Arrange the noodles on a plate.
- Mix all ingredients to make the sauce in a bowl.
Dip the shrimp rolls into the dipping sauce and enjoy!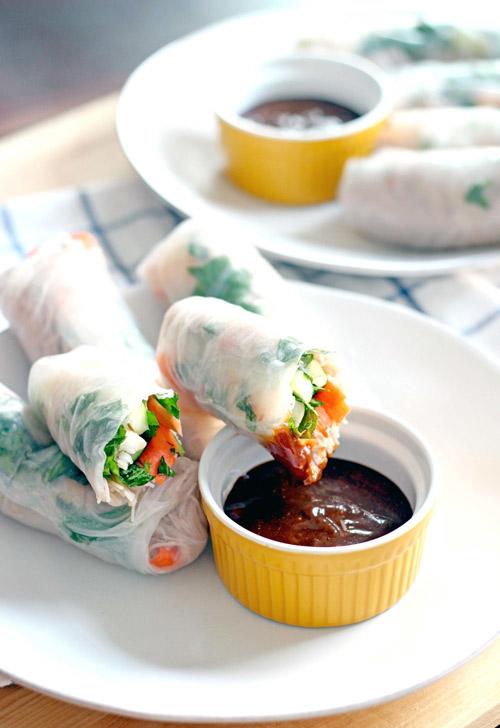 COOKED SHRIMP ME
Material:
- 300gr shrimp (can be tiger shrimp, shrimp class ...)
- 200gr bacon
- 50gr squeezed tamarind or 2 fresh tamarinds (to make sauce)
- Vermicelli, rice paper to roll
- Assorted herbs, washed.
- A little seasoning: fish sauce, sugar salt.
Making:
Shrimp peeled, discarded, sawed shrimp back only in the back removed. Boiled shrimp. Bacon washed, boiled.
Prepare vermicelli, rice crackers, washed herbs to wrap with shrimp and meat.
Spread bread into a clean cutting board, put herbs on top, give noodles, meat, shrimp (put the shrimp back down to roll the shrimp roll after being beautiful), roll it tightly.
Making tamarind sauce:
50gr tamarind juice soaked with hot water, sift through a sieve to get the tamarind powder. If using fresh tamarind, peel, add a little water to the pot, boil until tamarind powder is gone. Add a little fish sauce and salt, sugar depending on the taste. Bring to the boil, then turn off the heat.
Show shrimp rolls and tamarind sauce and enjoy!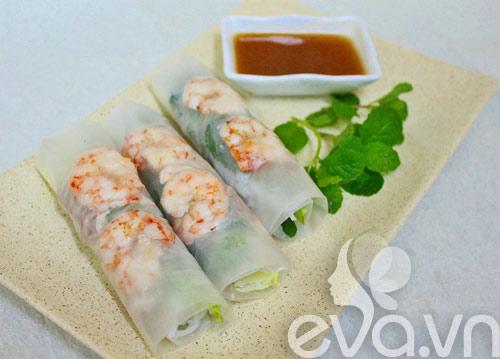 THREE ROLL COCONUT ONLY
Material:
- 800g cucumber, washed, grated into long thin slices along the fruit body (note, only young, large seeds will be picked when grated in the middle of the fruit or punctured).
- 450g delicious bacon
- 2 peppers, trimmed flowers
- 1 handful of green onions
- Served herbs: 2 curly lettuce plants; 1 bunch of coriander; 1 bunch of mint; 1 bunch of perilla or your favorite raw veggies.
Making:
Bacon washed with thin salt water, then put in a pot boiled with a few drops of rice vinegar to white meat. Then take out, let cool.
Aromatic herbs picked and washed, soaked in dilute salt water for about 15 minutes and then picked out and drain. Lettuce is fragile, so wash it lightly.
Scallions washed, only the leaf. Blanch scallions in a pot of boiling water, then release a bowl of cold water to keep the green color. Take out and drain.
Bacon after cooling, the disc, cut into slices, about 5cm long.
Put 1 slice of cucumber on a plate, then 1 slice of meat, followed by some curly lettuce leaves, perilla leaves, coriander, mint basil ... and then rolled up.
Use the green onions and force the cucumber to roll the meat out of it.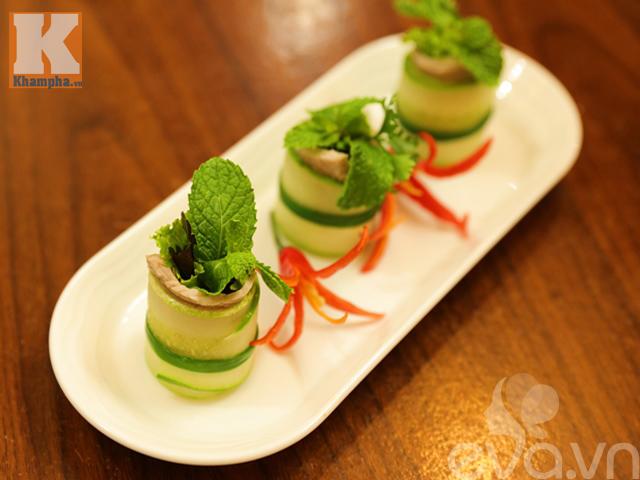 PHO LAO
Material:
- Noodles roll: 1 kg - Fresh rice noodles: 400g - Beef tenderloin: 400g - Onions: 1/2 bulb - Carrots, cucumbers - Spices: sauce, pepper, sugar, cooking oil - Aromatic herbs of all kinds: coriander, marjoram, basil, lettuce - Ginger, lemon, garlic, chili, dry onion.
Making:
Aromatic herbs picked then washed gently and soaked in water with a little salt and then picked out to drain.
Beef washed, sliced ​​thin. Marinate beef with little seasoning, cooking oil and chopped dry onions.
Add oil to pan, stir-fry scallions, mince garlic and stir fry.
Then stir fry the beef well and cook with high heat. Put stir-fried beef in a bowl and serve separately.
Carrots peeled, cucumber washed, cut only. Arrange cucumbers, carrots, herbs, noodles, beef on the tray. Mix sauce of phở in a proportional roll: 1 teaspoon of sugar, 1 teaspoon of sauce, 1 spoon of vinegar or lemon, 5 tablespoons of filtered water, minced garlic, minced chili, stir well.
Spread noodles on a plate, put the salad down, add some noodles, herbs, carrots, cucumbers, beef and then wrap tightly. Do so until the end of the material.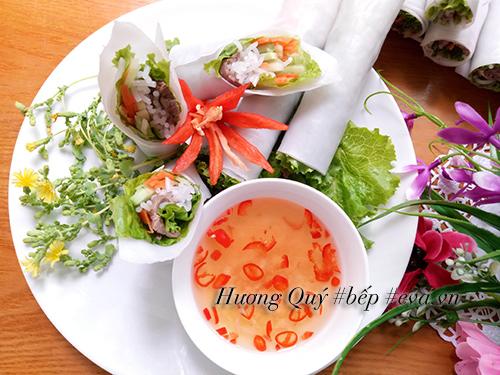 Arrange pho to roll on a plate, when eating dips with spicy and sour sauce.