Each dish has a different delicious and attractive flavor, making sure the whole family asks for more rice.
EGG EGG
Material:
- 500gr ground meat
- 7 fresh mushrooms, if dried, soak in water
- 3 cloves of minced garlic - 1 teaspoon of pepper - 2 tablespoons of sugar - 1 minced chili; 1 onion; 1 shallot = chopped dry onions; 1 sprig of scallions
- Spices: 1 tbsp of fish sauce + 1 teaspoon of seasoning powder + 1 teaspoon of pepper + 1 teaspoon of sugar
- 4 chicken eggs (take 1 yolk separately in the beaten bowl)
Making:
Vermicelli soaked in water to softly cut small pieces.
Shiitake mushrooms. Chopped green onion. Shredded onions.
Meat + spices + eggs and ingredients (step 1) are all mixed into the bowl.
Apply a little oil around the mold, or bowl. Then the eggs are evenly spread.
Cook 1 pot of boiling water. Put the meat molds into the steamer for 25-30 minutes. After 30 minutes, you open the lid of the pot and pour the egg yolk on the meat, sprinkle with sliced ​​shallots + green onions and chili.
Cover and steam for another 5-7 minutes until the eggs are cooked. Slice the egg into a plate or leave it in a bowl.
Egg rolls dish is very simple but quick, but on cold days, this dish becomes luxurious and attractive on the family tray.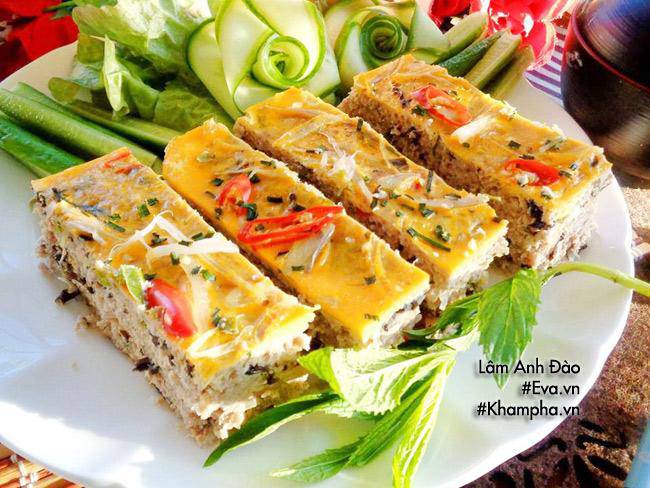 COCONUT MEAT
Material:
- Bacon: 300g
- Coconut rice cakes: 200g
- Spices: soy sauce, liquid water, soup powder, monosodium glutamate.
Making:
Meat and coconut washed with water. Cut pieces into bite-size pieces, cut into pieces with your fingers. Marinate coconut and meat with soy sauce, a little soup powder.
Non-aromatic onion with oil, put the meat first, stir well. For meat to boil, then put in 1 tablespoon of water and then cook medium heat to soften meat.
When the meat is cooked, add coconut to the island with meat, add to the pot 1/2 bowl of rice and filtered water, then let the pot of coconut meat simmer. Seasoning and adding more depending on the taste of the person eating.
Stir the pot of coconut meat occasionally to infuse spices.
When the water in the pot is almost empty, season the seasoning again. Pieces of tender, tender meat, crispy coconut aromatic extremely attractive.
Turn off the stove, put coconut meat on the plate, eat with hot rice will be very delicious.
HEARING
Material:
- Clam: 1,5kg (about 250gr clam meat)
- 100g nape or three heads only
- Shallot, garlic, scallion, chili
- Seasoning powder, pepper, fish sauce, sugar, coconut water.
Making:
Clam soaked in rice or water with some slices of chili to clean. Then for clams to boil. When clams have just opened their mouths, they will immediately take out the basket, take the clam meat, wash it, drain.
Pork meat (or nape) is washed, cut into small finger-sized pieces. Shallots, peeled and crushed garlic, minced. Chili washed, stalked, pounded. Scallions removed roots, leaves smashed, washed, the first part of the dam is chopped and green parts cut.
Marinate clams meat with seasoning powder, pepper, coconut water and 1/2 of purple onion, garlic, and onion head for 15-20 minutes for flavored clams.
North pot (porcelain pot) on the stove, old hot pot for bacon to hunt for less fat. When the meat to hunt all the remaining minced garlic and onion into the aromatic.
Then add 1 tbsp of fish sauce, stir the sugar quickly, and then add the marinated clams and chili to a simmer.
The clam dish is only about 4-5 minutes until the water runs out, not too long the clam meat will be tough. Then, season to taste, turn off the stove to scallions on the island, sprinkle with pepper.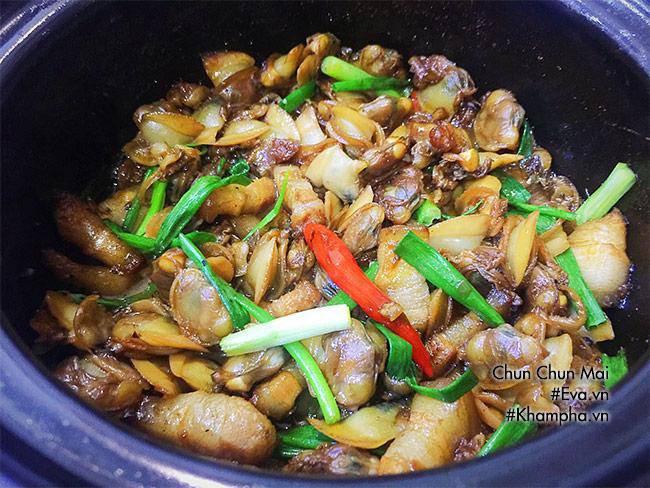 SHAPED
Material:
- 400 gr ground pork
- 1 chicken egg, 70 gr snakehead fish sauce or boneless mackerel paste
- 40 grams of tapioca starch or corn starch; 2 minced shallots; 1 minced onion; 1 tsp pepper; 1 tbsp of sugar; 2 parts white minced green onion; sliced ​​chili.
Making:
Grated snakehead fish paste. Put fish sauce in a bowl with meat, eggs and other ingredients and spices to mix well into the refrigerator for 20 minutes to cool all the plastic.
North non-stick pan on the stove, add 1 tbsp of oil, wait for the oil to heat, scoop each tablespoon of fish sauce into, fry on low heat. Note, the rolls are not too thick. Fry the gold on one side, then flip it on the other. When fried golden on both sides, then grilled fish sauce forks.
Grilled fish sauce forks, with cucumber flower salad and chili. The dish is very delicious when served with hot rice and the taste is great.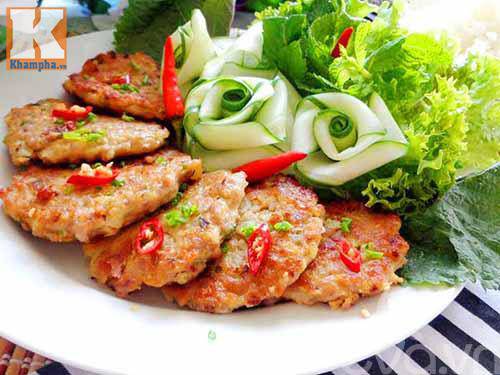 THREE JACKET ONLY
Material:
- 500gr bacon
- 1 sliced ​​horn chili - 1 chopped green onion - 1 thinly sliced ​​purple onion - 1 tablespoon oyster sauce, 1 tablespoon fish sauce, 1 tablespoon soy sauce, 1.5 teaspoons sugar, 1/2 teaspoon Instant coffee is available in a bowl
- 1 cup of water
Making:
Pork meat is only slightly blanched, washed and sliced ​​to taste. Fry the pan on the stove, add 1 tbsp of oil, wait for the hot oil, stir fry and scallion, then sauté the meat (5-7 minutes).
Finally, the seasoning cup and water are stirred, cover the rim and simmer until the gravy has a nice brown color.
Tasting again to taste is off the stove. Now add the chili and green onion.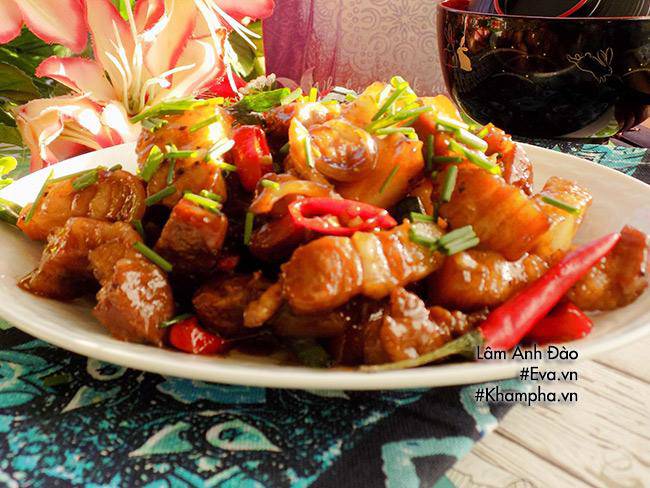 Braised bacon for the bowl or plate, served with delicious hot rice.